Roll over or click image to zoom in
Please see description below
LPH-Pro Hydroponic Growing System
Main features:
1. WIFI & Bluetooth App remote control, take good care of your plants anytime & anywhere.
2. Automatic water-cycling system provides enough oxygen for your plants. With a 6L water tank for 30 days watering free.
3. Two control modes, LCD touchpad screen, and LetPot smart App, easily set up and grow your plants.
4.15 growing seed pods and 30 inches adjustable LED rods, to meet your different plants at a time.
5. Two planting modes for herbs & veggies and fruits & flowers, with 24W full spectrum, Grow Light, no season or weather restrictions.
6. Full accessories in a set, LPH-Pro, AB nutrients, seed pod sponges, growing baskets, growing lids, adapter plug(has different standards depending on the shipping country)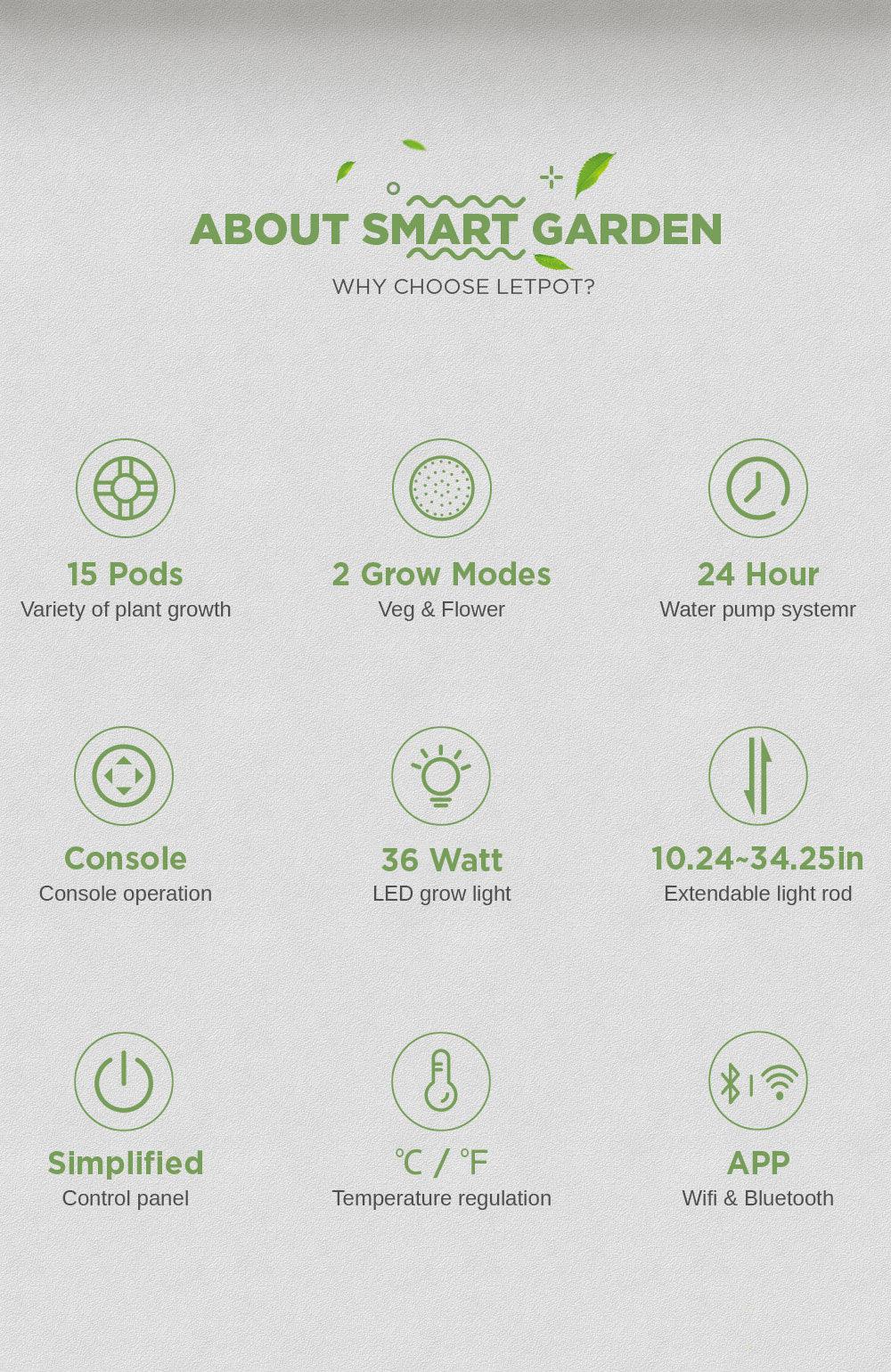 Main Features:
1. Automatic Water-cycling system
2.Wifi & Bluetooth App remote control
3.Two control mode, LCD screen and LetPot Smart App
4. Multi-LED Mode for veggies or fruits Automatically ON/OFF
5.15 pods for more plants
6. Water & Nutrient Shortage Reminder by alarm and App
7. Adjustable Height of LED Panel, up to 30 Inches
8.6L Water Tank for 20+ Days watering free
9. Full Accessories with Sponges and Liquid Nutrients
10. Silent water pump for Multi-Scenarios
About Hydroponics Circulation System:
The Hydroponics Growing System with 15pods is made for planting herbs, fruits, and vegetables in water without soil, resulting in more rapid growth.
Two nutrient solutions provide the elements needed for veggies' growth.
The sponges are made of biological peat, giving plants a place to grow and absorb nutrients.
The hydroponics garden kit requires no soil, ensuring a natural and green experience free of contaminants.
About LED Light:
The hydroponics garden kit features effective full-spectrum lamps, which include White, Blue and Red LED lights, providing 2 mixed-light modes based on your plant's needs.
Red Light is essential for the growth of stems, the expansion of leaves, and the regulation of flowering, dormancy periods, and germination.
Blue Light affects the chlorophyll content present in the veggies as well as leaf thickness.
White Light is designed to mix blue light and red light, reducing the light stimulation.
No Seasonal Limitations for Growing Plants:
The germination kit with 15pods supports up to 15plants at a time. The garden kit includes two sets of solid, all-natural nutrients (enough for a full season of growth).
Always fresh, always local, and always in season. Cook delicious meals throughout the year with fresh vegetables and fruits.
We are recommended Veggies and herbs would be the best plan to get started for the new gardener. Such as Genovese Basil, Curly Parsley, Dill, Thyme, Thai Basil, Mint, and Salad Green. Also, great for growing Cherry tomatoes, Pepper, and Flowers.
 Specification:
Model Number: LPH-Pro
Product Size: 15.74x7.08x12.59(H)(lowest)/30(highest)inch
Water Tank Capacity: 6L
Number of Pods: 15
LED Light: 24 Watt Full Spectrum
Power Input: 24V 1.5A
Rated Power: 36W
Includes: 15pcs Pods Kit + 15 Sponges + AB Solid Nutrients, Germination Cover, Plug adapter,etc.
So far loving my Aerogardens!
Set up was really simple. Honestly, it couldn't have been easier.
Putting the units together took only a few minutes. Then you add water, add some plant food to water (food comes with seed pods), put the seed pods in, and choose your settings.
There are different modes for different types of plants. Each setting has different light time settings. The machine is very user friendly. Setting the time, choosing garden type, and choosing the times the grow lights turn on and off was simple and quick.
Within a few days some of the seeds were starting to germinate. It's so neat you can watch it all happen, my kids have been excited about watching the progress!
At the two week mark the plants are coming along nicely. A few things haven't sprouted yet, but one of those (cilantro) I only just planted a few days ago, and the other two are cherry tomatoes. Those seed pods were really old and I'm surprised one of them came up… still have hope for the others.
This has been such a fun project for my family, and since we do a lot of cooking we're going to save so much on herbs! ( I probably spend 30-40$ on herbs alone).
I absolutely recommend Letpot units to gardeners and cooks who want to grow indoor year-round!
Perfect for any indoor gardening....fruits, vegetables or flowers
I am so pleased with the LetPot garden. Everything grows so well. I have the lights fully extended at 35" and the jalapeños have grown far beyond the lighting. I should cut it back, but the plants seems so happy. I have 2 cherry tomatoes, 2 jalapeños. I've plugged 4 holes because these plants are so big and there isn't room for anything else. I live in south Florida where everything grows year round outside but I like the convenience and look of growing plants indoors as well.
Absolutely love it!
I had the top of the line 9-pod garden with LED lights for many years. It was great but beginning to show its age. Then the lights started to go bad--flashed on and off first thing in the morning sometimes finally staying on and sometimes not. This new garden has 15 spaces for pods, a feature I really didn't want. But I also couldn't get the tall garden feature by going to a smaller one. I don't need that feature often--I mostly grow herbs--but still wanted the flexibility to grow things like tomatoes if I want to. I really like the fact that the bowl can be taken off the base particularly for cleaning. My previous garden was difficult to empty since you had to tip the whole thing, lights included, over the sink. I also think that the one piece top will be a plus over the long run. I always ended up with mineral deposits around the edge of the top with earlier versions where the top and the underside of it joined. Finally, I love the water level indicator--full, medium and add water. Much better than the surprise that the water level is too low all of a sudden. The opening for filling is also larger than in the past. Nice and quiet, too.
Love It!
Love this new garden! It's my 4th letpot and need more. This one has a very sleek design and takes up less space than I thought it would without sacrificing grow space or water capacity. Set up was a breeze with the display walking me through the steps. I love that on their larger gardens you can set the time on the garden, plus this one is wifi enabled so I can keep track of my garden's needs on my phone! My favorite new feature though is vacation mode, which will slow down the light and water use so I don't have to worry about my plants so much when I'm out of town. I can't wait for my plants to grow. I would recommend!!
Beautiful and incredibly easy to set up.
I just received my LetPot garden and couldn't be more happy with how it looks and how incredibly easy it was to set up. My gourmet herbs are already "planted" and being bathed in light! I also downloaded the LetPot Wi Fi app and added my garden in minutes. Thank you LetPot!
I just received my LetPot garden and couldn't be more happy with how it looks and how incredibly easy it was to set up. My gourmet herbs are already "planted" and being bathed in light! I also downloaded the LetPot Wi Fi app and added my garden in minutes. Thank you LetPot!
-DELIVERY & SHIPPING
We will ship your products within 1-3 business days once you have paid, and send you a confirmed Email with express number that you can track the shipping situation on our website after shipping. Due to LetPot have different warehouse in American, Europe and China, so the final shipping time will depend on your local warehouse, we will send you a email if there have some special situation.
Reference time:
Standard: 7-20 Days (Global shipping)
Expedited: 3-7 Days (Local warehouse)
-ORDER STATUS
Once you place your order, you will receive an email confirmation. If you need any help with your order confirmation or tracking information please contact us and we'll be happy to help you. Orders cannot be canceled once they are submitted to our fulfillment center but we will do our best to help you prior to that.
-CANCELLATION & ORDER CHANGES
Once an order is submitted to our fulfillment center, we are unable to cancel or make adjustments to it. Please be sure to review all order information before submitting your order. Orders may be canceled up until they submitted to our fulfillment center. Once an order has been submitted to our fulfillment center, you will be subject to the terms of our Return Policy below.
-PROMOTIONS
Please note that all Free Shipping promotions only apply to orders that meet the condition. Sometimes we discount individual items so we can provide you with the very best value. We also run several different promotions at any given time. We reserve the right to exclude these already discounted items and other promotions that are running from being combined with other special offers, coupon codes or promotions.
-SHIPPING & HANDLING INFORMATION
Once your order is placed, it is immediately sent to our fulfillment center for processing. Orders cannot be canceled once they are sent to our fulfillment center.
Orders are processed for shipment within 3 business days, based on in-stock availability. Transit times listed on our website are in addition to this order processing time. P.O. Box deliveries will not be accepted at this time. If you enter a P.O. Box into the shipping address there is high likelihood your order will be returned as undeliverable. APO/FPO/AE - We are no longer able to accept orders shipping to Military addresses, Puerto Rico or Guam. All orders placed through this Website are subject to LetPot acceptance. LetPot may refuse to accept or may cancel any order, whether or not the order has been confirmed, for any or no reason, and without liability to you or anyone else. If your payment method has already been charged for an order that is later canceled, LetPot shall issue you a refund.
Great Quality and services are our duty and we want our customer to be completely satisfied. If for any reason you're not satisfied with your LetPot purchase, please contact us to arrange for a merchandise return or for questions related to our quality guarantee. Please do not return any product without contacting LetPot for return authorization. Unauthorized returns, as well as C.O.D. shipments, will be refused.
Due to continuing improvements of our products and services, actual product may differ slightly from the product described herein.  Some states do not allow the exclusion or limitation of incidental or consequential damages, so the above limitation or exclusion may not apply to you. This warranty gives you specific legal rights, and you may have other legal rights that vary from state to state.